Dr. Lawrie was born in 1945 in Murwillumbah, Australia, a country town with a population of 15,000. He grew up in Sydney, Australia, attended the Scots College and graduated from The University of Sydney Medical School in 1969. He was a Commonwealth Scholarship Holder throughout medical school and as an undergraduate was awarded the James McRae Yeates Prize for Clinical Surgery. He continued his surgical education in the Teaching Hospitals of the University of N.S.W between 1969 and 1972 when he left for a year of post- graduate education in England. This included five months at the Institute of Basic Medical Sciences of the Royal College of Surgeons in London. He returned to Australia in 1973 and completed his residency training in thoracic and cardiovascular surgery in Sydney at his previous Teaching Hospitals. During this period, Dr. Michael E. DeBakey was a Visiting Professor in Sydney and invited Dr. Lawrie to spend a year with him in Houston.
Between 1974 and 1975,Dr. Lawrie completed a Cardiovascular Fellowship at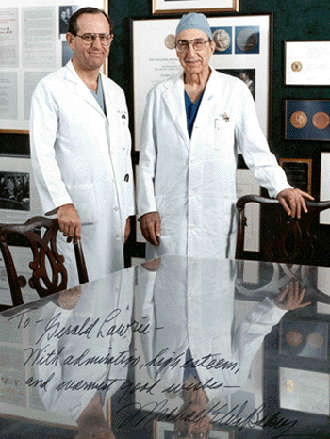 Baylor College of Medicine with Dr. DeBakey and was invited to join his personal staff as an associate surgeon as well as the Department of Surgery at Baylor College of Medicine. In this capacity he worked with Dr. DeBakey on a daily basis for over 20 years and accumulated a very extensive experience in the surgical management of end-stage and complex cardiovascular disease. During this time he participated in the surgical care of many notable figures such as the Shah of Iran, the President of Turkey, the King of Belgium, and a number of other royal figures. He helped set up cardiovascular surgery programs in Saudi Arabia and Indonesia. He was also actively involved in student and resident teaching and carried out extensive research in cardiovascular surgery. He published many scientific papers and delivered many lectures at national and international meetings, such as those of the American Heart Association, American College of Cardiology, American College of Surgeons and American Association of Thoracic Surgery. He was appointed Director of the Thoracic Surgery Residency Program of Baylor College of Medicine in 1992. Dr. Lawrie received several major awards for teaching students and residents. He rose to the rank of Professor of Surgery and Vice Chairman (Research) of the Department of Surgery and Attending Surgeon at The Methodist Hospital.
In early 1994, he spent 3 months in Glasgow, Scotland, setting up a cardiac surgery program at a new 300 million dollar medical center for Health Care International. This entity was formed by Harvard based physicians with major financial support from Harvard University. He then returned to Houston to continue his career at Baylor College of Medicine.
In 1997, in response to the rapid and unprecedented changes in medicine brought about by managed care, he became a Clinical Professor of Surgery at Baylor College of Medicine, and with many of his colleagues in Houston, formed Texas Surgical Associates, Houston's largest single specialty group of cardiovascular surgeons. Since then he has continued to pursue a very active clinical practice while at the same time remaining productive in teaching and research. In 2008, he was appointed the Michael E. Debakey Professor of Cardiac Surgery, an endowed professorship.
His regular practice of all aspects of thoracic and cardiovascular surgery over the last 25 years has encompassed many thousands of patients. He has developed special expertise in cardiac valve repair, minimally invasive cardiac surgery, blood conserving surgery, and redo surgeries. He accepts many high risk referrals from other medical centers. Dr. Lawrie practices in the Texas Medical Center at the Methodist Hospital.